Belgrade Tours

There are many ways to discover Belgrade. Nowadays you can do it from air, water or simply walking through the city. In order to save your time and have the real taste of the city we have decided to choose several reliable Belgrade tours that can in short time introduce you to one of the oldest European cities. Information on tour terms and prices can be found through tourist information centres at the following phone number +381 11 3281859 or if you are in the centre just walk to Makedonska 5 and you can also get the brochure and deeper insight into other tours around Serbia.
Basic Belgrade Sightseeing Tour
Route: City Council building, National Assembly building, Terazije, Trg Republike, Studentski trg, Belgrade Fortress, Varos gate, Novi Beograd, Topcider hill, Dedinje, Trg oslobodjenja, Slavija square, Trg Nikole Pasica.
Departures: Sundays at 10.00 in English language, from Trg Nikole Pasica 12.
Duration: 90 minutes guided by licensed tourist guide.
Background: This Belgrade tour goes through the most important city squares and streets. If you are visiting Belgrade for the first time this is probably the most suitable tour for you. Also if you are staying in Belgrade for longer time this is perfect way to learn about the city and get acquainted with Serbian culture and lifestyle.
Belgrade Royal Palaces Tour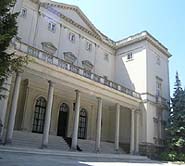 Route: Drive by bus to Dedinje, tour of the palace park, Royal Palace (Kraljevski dvor) and White Palace (Beli dvor).
Departures: Saturdays and Sundays at 10.30 and 13.30, from Trg Nikole Pascia 12.
Duration: About 2 hours, guided by licensed tourist guide
Background: The Royal Palaces are located in the most relaxed and luxurious part of the city - Dedinje. The palaces belonged to Karadjordjevic dynasty and they are opened from recently for public, unfortunately only during the summer season that is - from 1st April to 31st October.
The whole complex is located at the highest spot of Dedinje and it includes: Royal Palace, White palace and the chapel of St Andrej Prvozvani. The complex also includes swimming pools, kitchens and various items used by the dynasty.
The Palace was renewed after the second world war and it was built from personal funds of King Alexander who wanted to make residence for his sons. Nevertheless, the construction was completed by Knez Pavle who also enriched the palace with various paintings and valuables.
Today the whole complex is used by the King Alexander 2nd and his family - so if you want to relax in the cleanest part of Belgrade and at the same time see beautiful monument we advise you to call the tourist info centre (+381 11 3281859) and schedule your visit.
Vinca Tour
Route: Bulevar kralja Aleksandra, Smederevski put, Vinca village, Vinca archaeological site
Program: Tour of the archaeological site with commentary by guide and curator, followed by free time.
Departures: Saturdays at 11.00, Trg Nikole Pasica 12
Duration: 180 minutes accompanied by a tourist guide
Background: Vinca is a small place only 14 km from Belgrade and it is famous archeological spot in this part of the world. Vinca today has a status of Archaeological park and is also famous for Monastery of the Presentation of the Virgin to the Temple from 15th century.
In 1908 Mr. Miloje Vasic initiated the excavations and at this time many houses of prehistoric people were discovered (from the period around 4500 - 3200 BC). There are many artifacts and, jewelry and objects made of precious and rare metals, vases, various materials and real treasure that has been procured from other parts of Europe especially Central Europe and Mediterranean region.
Most of the objects and artifacts can be today seen at the exhibition in the National Museum of Belgrade, Vinca collection on the Belgrade faculty of philosophy and in Belgrade city Museum. The territory of Vinca culture was larger in 4000 BC than any other European Neolitic culture. 200 years after this the culture reached its golden stage when new societies emerged focused and based on processing of copper and gold. From recently some of the figures from the oldest European archaeological spot can be seen at the hall of National Bank of Serbia on Slavija square.
Vinca is open for organized tours whole year so if you want to see some of your ancient relative's lifestyle and culture - definitely visit the place!
For further information please call tourist information centre at the following phone number +381 11 3281859 or if you are already in Belgrade just walk to street Makedonska 5 and you will be surprised with the number of tours around Serbia.

Car hire in Belgrade is an easy task if you use an international company such as Budget rent-a-car, Skill rentacar or similar. Cars range from... Learn More

The Serbian cuisine (and not only cuisine) was formed under the influence of all the cultures that lived in Belgrade throughout history... Learn More
Hotel Booking:
Need more Belgrade Apartments?
In Focus
Want to advertise on Belgrade Eye?
We offer our clients an array of advertising solutions. Please contact our account manager at +381 64 2588 754. We are just a phone call away !!
Belgrade Flat Rent
As everywhere, Belgrade apartments range from filthy train station sleepovers to cozy places where you can really relax...