Belgrade Shopping
Thanks to the 15 years of economic and market reform, visitor shopping in Belgrade is no longer confined to buying pirated CDs and forged designer clothes. Actually, it might sadden some of you that today one actually needs a certain (very small) degree of cunning to find those much missed CDs and DVDs... they are still sold around the center, but the offer is very restricted and the vendors are always on a lookout for a police patrol.
However, today the city is a much better place for your average shopper after stores offering the same brands as the ones back home but at lower prices. You will find most major shopping chains here, and those that aren't are likely to come in the very near future.
This page takes you around the city through the general shopping areas, covering a wide price range, and ends with ideas on Serbian souvenirs that can be found in smaller shops in Belgrade.
Belgrade City Center Shopping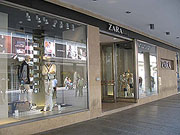 Walk down Terazije, Knez Mihailova, and the part of Kralja Aleksandra Boulevard closer to the center for some familiar names like Hugo Boss, Mango, Springfield, Diesel, Replay, Benetton, Zara and the like.
Most shoe stores offer bargain prices for pretty good quality footwear, so check them out in this area as well. Peek into some smaller local shopping malls (such as Cumicevo sokace off Terazije Square, in a passage right after McDonalds) and some of the smaller, no-name stores for an occasional great find, and check out some of the smaller discount chains such as India Shop.
However if you want to find all of the mentioned brands and more at one place - visit Delta City, a fairly new and biggest shopping mall in Belgrade, located across the river in New Belgrade. Another Delta shopping mall - Delta planet should be opened in the next few years.
Belgrade Dirt Cheap Shopping
The flea market (Buvljak or Otvoreni Trzni Centar - OTC) located in Novi Beograd (New Belgrade) has been reorganized a few years ago and now hosts stands selling everything from bicycles to house appliances and to clothing and footwear. You will have a lot to choose from no matter what you are buying and the prices will be very very low.
Blok 70 shopping mall in New Belgrade is today dominated by small vendors from China, selling everything and anything for nearly no cost at all.
When venturing to either of these two locations, keep in mind that bargaining is always in order and make sure you give it a shot before settling for the sellers' first offer.
Shopping for cheap clothes, you may have a look at Depo on Kralja Aleksandra Boulevard, which sells women's and men's clothing at very low prices. The selection is usually limited to the styles that are currently most worn by the masses.
Belgrade Souvenirs Shopping
There are numerous places to buy really authentic presents and souvenirs in Belgrade.
Some of ideas that come to our mind are the following:

Mamut Megastore
Address: Corner of Knez Mihajlova and Sremska street
Phone: +381 11 263 90 60
Working hours: Mon-Sat 09-22h
Sun 12-22h
Web: http://www.ips.co.yu

One of a kind place for buying gifts in Belgrade and at the same time the biggest importer of books, cds, dvds, gifts and home decoration products in Serbia. Even if you are that irresponsible not to buy your presents during your visit to Belgrade or you are lazy or too busy to do it - don't worry there is an excellent online store with really unique gifts and souvenirs - please check out our page dedicated to the best site for Souvenirs of Serbia

India shop

Address: Panciceva 9, 11000 Belgrade
Phone: +381 11 2186-815
Working hours: Mon-Fr: from 09 a.m. to 17 p.m.
Sat: from 09 a.m. to 15 p.m.
Web: http://www.india-shop.co.yu/eng/index-2.html

Indian shop - is the place if you want to buy something unique imported from India especially if you are interested in : women garments, all sizes, jewelry for all occasions, shawls, cushion and bed covers-different designs, colors and sizes, boxes, baskets, statues, CD racks, lamps, photo frames, small furniture at the most favorable prices in the city.

Delta City Belgrade shopping mall

Address: Jurija Gagarina 16, 11000 Belgrade
Phone: +381 11 2203660
Working hours: depends on shop but most of them MON-SUN - 10:00-22:00
Web:http://www.deltacity.rs/

If you like shopping and are willing to invest some time in finding the best gift for people that you care about I recommend you visit the place with the widest choice in Belgrade Delta City. Newly opened shopping mall really has everything you can imagine from fashion items, underwear, and great toys for your children, all the way to jewelry, optical stores, home décor and much more .
UŠĆE Shopping Center

Bulevar Mihajla Pupina 4
11070 Novi Beograd

Tel: +381.11.285.45.05
Fax: +381.11.260.14.13

For those interested in renting a space in the center please call::
+381.11.285.45.10;
UŠĆE Shopping Center is the at the moment the biggest shopping mall in Serbia and the only big one in the city center - just a accross the bridge on new Belgrade side. All major brands are present, cinema Kolosej multiplex, many restaurants, ...for more information please visit usceshoppingcenter.com